The Salon at Paradise Pet Lodge, Inc. offers an ideal opportunity for further pampering of your pet. Your pet will receive a full or partial make-over from one of our profession Pet Stylists. We have created an inviting environment in our modern, pet-friendly grooming salon.
Our Stylists are skilled and knowledgeable with all types of different breeds and their special needs. At Paradise Pet Lodge, Inc., we strive to make every trip to the Groomer a comfortable, safe and positive experience.
Our baths are customized to your pet's specific needs using professional quality, environmentally safe, biodegradable shampoos and conditioners.
Please inquire about our many special grooming and salon services available for your pet while vacationing with us at the lodge, or visiting for the day.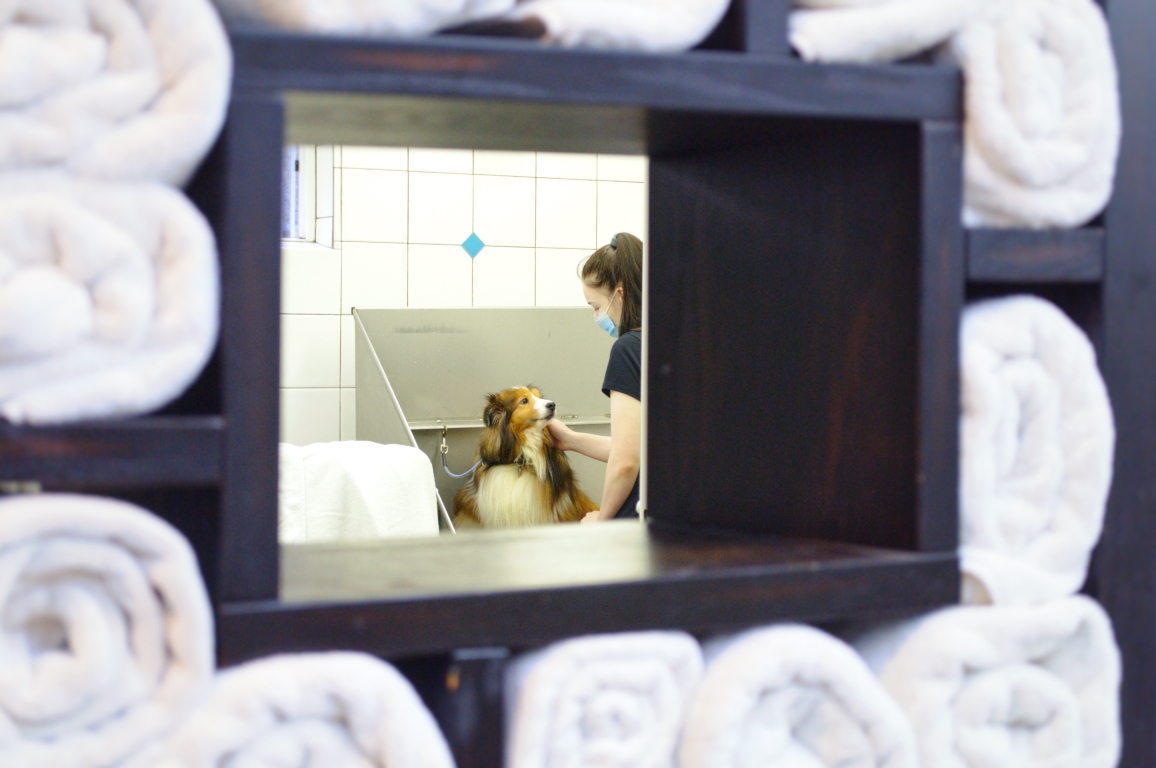 Grooming estimates are available upon check-in! Please ask!
Includes nail trim, cleaning of the ears, blow drying and brushing. Gland release for pets less than 45lbs.
Includes the entire basic bath, plus trimming feet, sanitary trim, trimming around the face, and ear plucking if needed.
Includes the entire signature trim and your specified haircut by one of our trained stylists.

Scissor Trims & Hand Strips
Based on $85 per hour and may be added to any of the Complete Groom Services.
*Prices vary by breed/size/coat
De-matting
Matting often hides or may aggravate existing conditions. For safety reasons, in cases of severe matting, bathing may not be an option for your pet without the removal of mats and is based on the discretion of the salon staff.
Full De-matting
Our salon staff manually works out mats through various techniques to preserve as much coat as possible. The process of de-matting is an additional $85 per hour and may require multiple visits.
Spot Shaving or Scissoring
This process is more cost effective and less stressful for the pet. Charges are based on the amount of time and spot shaving and/or scissoring skills required.
Full Shave
A full shave includes a complete body trimming and charges are based on the amount of time and technical skill required.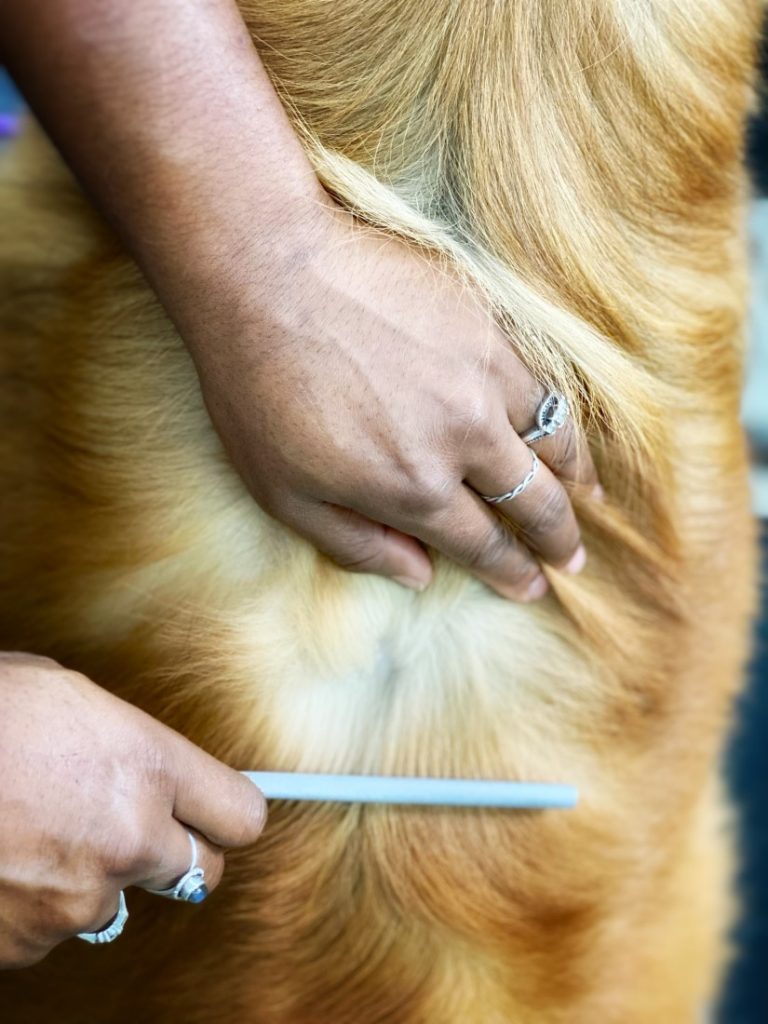 Brush outs
Starts with sessions of 10 minutes for $12.50 and each additional 10 minute increment is $12.50
PlaqClnz Treatment
Zinc-based, oral health care that treats and helps prevent bad breath, plaque, tartar, and aids in the healing of gum tissue. We use PlaqClnz Gel along with the Oral Irrigator to quickly clean and freshen up your pet's teeth, gums and mouth. You'll be encouraged to continue using the at home PlaqClnz Gel product. The PlaqClnz Treatment is $10, we sell the at home Gel for $20 in the lobby.
"Paw"dicures
A pedicure for your pooch that includes nail filing, and polish
Manicure (polish on front nails) $25
Manicure/Pedicure (polish on all nails) $35
Temporary Color
Fun, creative, nontoxic, temporary color to let your pet expess themselves. Starting at $30
Shed-less Treatment
Banish dust bunnies with our service designed to cut down on the amount of shedding. For best results bathing is recommended but not required. $20 per ten minute session
Bikini Trims
A quick trim up the potty area for that fresh and clean feeling during their stay. $7.50 before boarding, or $15 during their stay.
Dead Sea Mud Conditioning Treatment
Perfect for your pet's day at the spa. Hydrating and conditioning, rebuilds coat and skin while soothing with essential oils and minerals from Dead Sea. great for those pets with reactive skin. $10
Crystal ear gems and Hair coloring
Please call for details and availability.
Feather Extensions
Choose from an assortment of different designs $15 per design.
Warm Conditioning
We add vitamin E to one of our conditioners chosen specifically for your pets needs then heat to aid in penetration of the hair shaft and follicle. helps revitalize damaged hair and dry skin while creating a relaxing experience for your pet. $10
Facial and Paw Treatment
We start the bathing experience with a relaxing combination of our aromatherapy facial cleaner and Dead Sea mud treatments for the pads applied at the beginning of the bathing experience for the greatest amount of pampering. $5
Prices are in addition to Salon Services.
Our salon staff highly recommends this package for all pets. Includes: facial, paw treatment, sugar scrub, nail filing and PlaqClnz treatment $20
A stylist will focus solely on your pet from start to finish. This uninterrupted block of time is great for dogs or cats with special needs or health conditions. Price varies depending on time required.