In the summer of 1999, we opened our Garden Cattery, which provides spacious accommodations in one of our eighteen 4′ x 4′ and 6′ tall cat condos with large "walk-in" access designed to provide our caregivers plenty of room to attend to your cat's needs. Each condo is accessed through a custom sliding glass door and includes a garden bay window where your cat can stretch out, bask in the sun, sleep or just watch the wildlife flutter by. The cats love the feeling of being outside, yet with all the protection and tranquility of being inside. Each condo has individual fresh air circulation and climate control heating. 
In the Garden Cattery we have two large cat suites. They have all the same comforts as the regular cat condos, except they provide a more spacious environment, plus additional privacy for the larger cat families. Each large suite is 4′ x 8′ and 6′ tall and includes a four-tier bunk bed.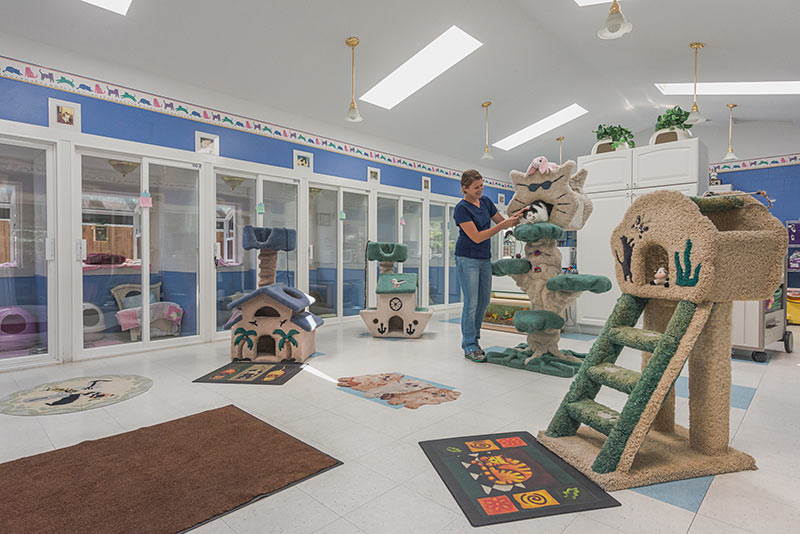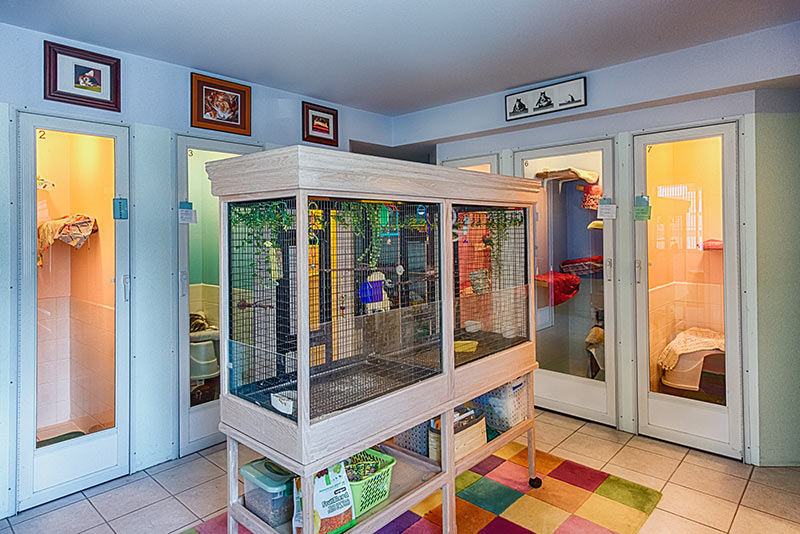 We opened our Penthouse cattery in 2003, on the second floor above the lobby. These quiet, colorful "walk-in" condos are 3′ x 4′ and 6′ tall with three to four comfortable shelves at various levels to climb on for some subtle exercise or just take a nap. 
The center of the room has a large aviary with active parakeets for our feline guests' viewing enjoyment. Each condo has individual fresh air circulation and climate-controlled heating.
Prices Effective May  1, 2023
A $75 Deposit is required to reserve a suite. A minimum 30 day cancellation notice is required for a refund or transfer of your deposit. Owners will be financially responsible for any damage done by their pets while boarding in the suites. During the holiday seasons, we will require an advanced non-refundable deposit for all accommodations.
Our Deluxe activity packages are in addition to our regular boarding services and may be purchased separately on a daily basis or in any combination. You also have an option to purchase activities individually using our al a carte option.
Morning
Wake up and stretch with a 10-minute play time and photo op
Afternoon
Help the afternoon fly by with their own catnip plant before their 10-minute brush & playtime session
Morning
Get the day going with 15 minutes of brush and play time
Noon
A serving of salmon pate for lunch
Evening
Settle the day down with a 5-minute social brushing and an application of Aromatherapy Essential Oil on a bandana in the condo
Social Brushing – $8 per brush.
Your cat will receive a soothing 5-minute brushing session in our quiet playland area or in the privacy of their own condo, if they so choose.
Private Play Time – $9 per play
For the more active cats, we offer a private play session with cat toys and free roam of our playland area, equipped with carpeted climbing trees. The play time session is 10 minutes in length and supervised by one of our caretakers.
Brush and Play – $11 per time
For the cuddly and active cats, we have a combination brush and play session! This session is 15 minutes in length and has a front row view of the Parakeet cage or the Fish tank.