The "Paws Here Coffee Shop" made its debut in July 2010. Our cozy little coffee shop caters to our customers and their canine companions and is located next to the office at Paradise Pet Lodge. Our primary focus is to provide high-quality coffee and snacks, as well as offer an enjoyable experience for our clients to share with their pets. We feature a premium coffee from Dillano's Coffee Roasters and a few select treats and goodies for humans and canines. Our dog-friendly coffee shop combines the skill of our baristas with our passion and dedication to all our guests. Our coffee menu consists of a variety of espresso drinks, delicious smoothies and tea creations. We incorporate four-legged family members by making homemade pupsicles, doggie smoothies and scrumptious cookies and treats. All canine-friendly items are served through a treat window located at the perfect wet-nose level or through our custom built "treat chute". Our coffee shop also boasts a self-filling water dish, providing refreshment for our canine companions.
Paradise Pet Lodge offers several deluxe boarding packages that showcase a stop at the coffee shop for a "good morning smoothie" and a treat down the chute; followed by a full day of activities. All of our boarding packages are designed to create an enjoyable canine experience by combining some of your pets' favorite daily activities to match their energy and interest levels. All of our coffee shop items can be purchased and added onto your pets' boarding or grooming bill.
Just let our baristas know what we can make for you!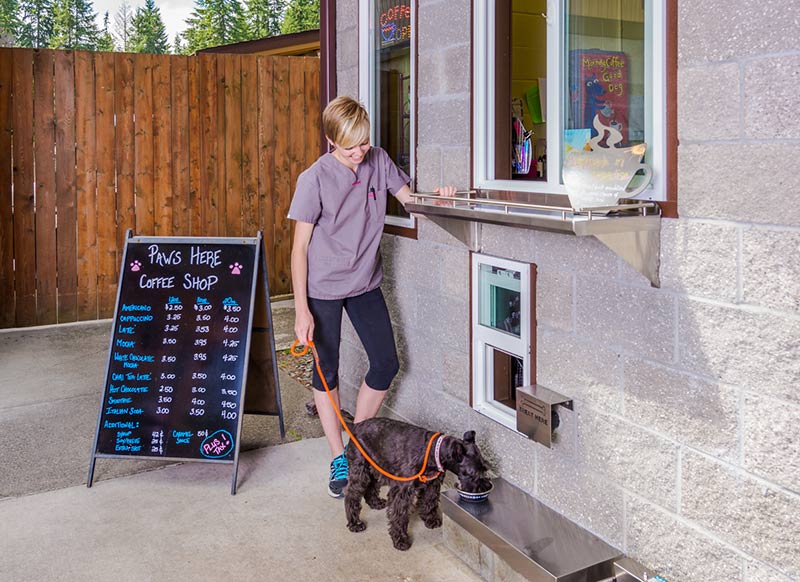 Our coffee comes from Dillano's Coffee Roasters, which is one of the area's premier coffee roasting companies, headquartered in Sumner Washington.
Dillano's places a strong emphasis on the specialty coffee industry by selecting only the best coffees from around the globe and meticulously roasting the beans to produce a high quality, smooth product. Dillano's was named Roast-Magazine's 2011 "Roaster of the Year". All of our coffee creations are served in eco-friendly cups that are made of corn, not plastic, so they are compostable and friendly to our environment.
Come stop by the "Paws Here Coffee Shop" on your next trip to Paradise Pet Lodge. Our coffee shop is one place you and your pet will definitely want to "paws."