Paradise Pet Lodge, Inc. employs a staff of up to fifty employees depending on the season. Over half of our staff is employed on a full-time basis. Everyone is hired because of their intense love and devotion to animals, including their well-being. Each employee is vital to our team and the ongoing success of Paradise Pet Lodge, Inc.. 
We value all of our employees and continually work towards creating more of a family atmosphere, rather than just an employer/employee relationship, which reinforces the quality care of the pets, just as they would family members.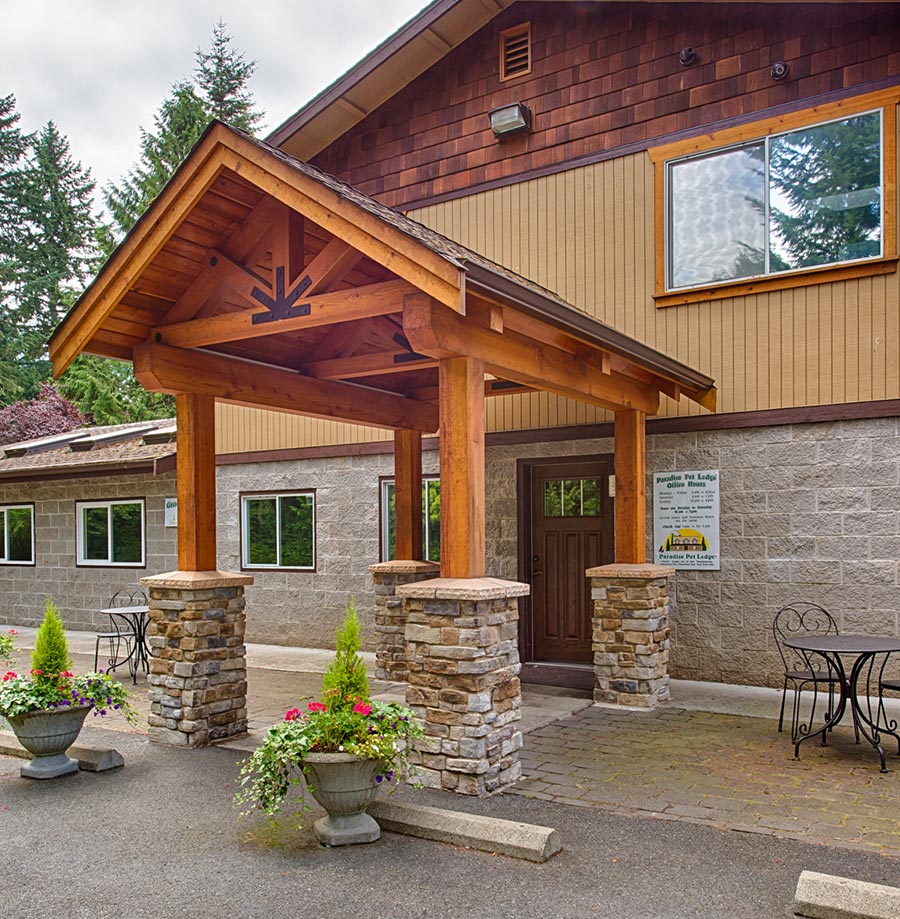 Brian and Libby Baarstad, Co-Founders
Brian and Libby opened Paradise Pet Lodge memorial weekend, 1990. Libby was the hopeless animal lover and dreamer but it was Brian with his energy and construction knowledge that helped turn her ideas and dreams into reality.
Libby is the President of the corporation and has adored animals for as long as anyone can remember. For years her parents put up with her bringing every stray animal, from chickens to horses into their home.
After college and marriage to Brian, she worked as a Veterinarian's assistant until she resigned to raise her two young children, Brandon and Brianna. Libby then started breeding, training and showing Flat-Coated Retrievers. Several of her Flat-Coats became the top show Flat-Coats in the country, winning Best in Shows, field trials and the FCRSA National Specialty.
The Baarstads started planning and designing a small boarding kennel business to allow Libby more time with her children, dogs and to provide income to supplement her "animal habit". After taking numerous business courses and attending American Boarding Kennel Association seminars; two years of permit processes, multiple county hearings and endless hours of construction, the Baarstads opened Paradise Pet Lodge, Inc. for business in 1990.
Libby quit showing and breeding dogs to hit the road showing Paint horses with her daughter Brianna. After several successful years showing horses, Brianna went away to college and together Libby and Brian concentrated on growing and improving Paradise Pet Lodge, Inc. into what it is today.
Brian Baarstad has his own Real Estate Brokerage business and is the Vice President of Paradise Pet Lodge, Inc. Brian is active in the marketing, maintenance, remodeling and expansion of the facility.
Both of the Baarstad children have returned from college to work for the family business.

Jenny Uphaus, Operations Manager
Jenny Uphaus grew up Bothell, graduated from Bothell High School and currently resides in the Snohomish area with her husband Matt and their son Tanner. She has always loved and cared for animals and this area's surrounding nature. As a child she belonged to 4-H and raised a variety of farm animals and exhibited at the county fairs. While still in high school, she enrolled in the Veterinarian Assistant course at the Sno-Isle skill center.
In 1990, Jenny joined the staff of Paradise Pet Lodge. After graduation from high school, she attended and graduated from Maser's Grooming Academy. She then completed the first Level of the American Boarding Kennel Association Pet Technician course.
Her passion for people, animals, strong organizational skills and work ethic has lead to an long and productive career with Paradise Pet Lodge; most of those years in management.

Kathy Squires, Administrative Services Manager
Kathy met Libby Baarstad in 1987, while they were both employed at another pet boarding facility. When the Baarstads opened Paradise Pet Lodge, Kathy was hired on as their first employee and has been a valued team member ever since.
She grew up working with dogs, cats and horses and becoming very involved in 4-H for over 12 years. She worked for 8 years as a barn assistant and competitively showed Pinto horses throughout that time. She currently resides in Monroe with her husband and three boys.
With Kathy's experience from working in other boarding facilities and her special interest in marketing and customer service; Kathy helps create and market new ideas for Paradise Pet Lodge and keeps the administrative office operating. She loves spending time with the animals; especially the "special needs" boarders and reassuring their owners that their pet will have a safe and enjoyable stay.

Katrina Petr-Hepler, Grooming Salon Manager
Katrina has been with the Paradise Pet Lodge family since the summer of 1997. She began working for us as a Pet Care technician, as a summer job during college and decided to stay, working her way up to becoming the Salon Manager. The health and comfort of our guests is her highest priority. Katrina loved and grew up with a myriad of animals and was very active with 4-H and FFA. She also professionally showed cats and worked with several cat breeders in the show circuit.
She is a compassionate, experienced, and recently awarded; all breed dog and cat groomer. She is also a certified ABKA pet care technician.
Her other great interests are fine art and photography. Katrina has received several awards for her art nationally and locally. She is an alumni of Cornish College of the Arts in Seattle, majoring in fine arts and Everett C.C., focusing on photography. Her artistic background lends a unique outlook to her grooming style and has allowed her to combine her two greatest interests; art and animals. Katrina lives in Everett with her husband, daughter and various cats and dogs.

Terri Gates, Cattery Manager
Terri grew up in Bothell with 2 brothers and 2 sisters, one of which is Libby Baarstad, President of Paradise Pet Lodge. Terri and Libby have always shared their love for animals. After graduating from Inglemoor H.S., she went to college and majored in her other passion, music. She has sung in concert choir, various musicals, church choir and with the Seattle Civic Light Opera. She currently resides in Smokey point with her 4 children, 3 dogs and 4 cats.
Terri started her pet care career at Paradise Pet Lodge, shortly after it's opening in 1990. During that time, she has also had her own pet-sitting business and offered her professional service to countless numbers of families in need. She is currently a Tellington Touch Practitioner in training, for which she is extremely passionate about.
Terri enjoys working with our customers, as one of our best customer service providers. Most of all, Terri loves caring for their pets and has a special place in her heart for the cats.

Brandon Baarstad, Facilities Manager
Brandon has always been around and loved animals. As the son of Brian and Libby Baarstad, he was essentially raised at Paradise Pet Lodge. His attention to detail, gentle way with animals and his excellent work ethic makes him a valued team member.
After graduating from Monroe H.S., he attended college on a baseball scholarship where he majored in psychology with his dog "Slugger" by his side. After college, he and Slugger returned home from Arkansas to help his parents with the everyday operation and maintenance of the family business. We often wonder what we would do without him!
Brandon is also coaching baseball at Cedercrest High School. He currently resides in Snohomish with "Slugger" and his new dog "Homer".

Bri Baarstad, Special Services Manager
Bri Baarstad also grew up in the family business and can't imagine a world without pets. She attended Monroe High School, where she played four years of varsity soccer. Along with her passion for soccer, came a passion for horses. Bri showed paint horses competitively for many years and competed at the APHA World Show in Fort Worth, TX accumulating several national titles.
After high school, Bri attended Loyola Marymount University in Los Angeles, CA pursuing a degree in business. She returned home to Washington and purchased her very own drive-thru espresso stand. After 4 years of successfully owning and operating her business, a new business venture from her mother arose. Libby Baarstad approached her with the idea of opening up a Pet Spa at Paradise Pet Lodge. Bri fell in love with the idea and was up for the challenge of completing all the necessary education.
Bri enrolled in both large and small animal massage at the Northwest School of Animal Massage. Upon completing both courses, she enrolled at Bellevue Massage School, where she graduated with a massage practitioner license. Bri continued her training with Cindy Horsfall at La Paw Spa, where she fell in love with canine hydrotherapy.Thus, the Pet Spa was created and up and running! Now Bri oversees the management of the Pet Spa and is an active board member at Paradise Pet Lodge and assists with the operation of the family business.
Bri resides in Juanita with her Chihuahua Roxy and her rescued pit mixes, Darby and Whiskey.

Cheryl Kearney, Exercise Manager
Cheryl Kearney graduated from Monroe H.S. and lives in Snohomish with her husband, daughter and a menagerie of animals. Her son Buck is currently serving in the Navy.
Cheryl has always been actively involved in the world of animals. When her children were young, she was a leader and Superintendant for 4H and FFA. Her entire family would participate yearly at the Evergreen State Fair in Monroe. While her children were in school, Cheryl worked for several years as Manager for one of the local Pet Stores.
Cheryl began working for Paradise Pet Lodge in 2004 as an exerciser with both of her, at the time, teenaged children. She enjoys riding her horse and competing in Western Gaming. Her daughter Becky still works for Paradise Pet Lodge and is a reigning Rodeo Princess and attends college locally.
Cheryl's love of dogs, exercise and fresh air and her exceptional skills as a youth team leader made her a natural at her job.

Corey, Customer Care Consultant and Newsletter Coordinator
Corey was born and raised in Iowa and relocated to Washington with her mom during early childhood. Corey knew even as a little girl she had a passion for animals. At the age of 12, she began volunteering at a local animal shelter, Hooterville Pets Safehaus (currently Homeward Pet Adoption Center) and has been a volunteer with the cat program ever since.
Corey's continuing love for animals helped her gain valuable experience by working as a veterinary assistant at two vet hospitals in the area. Her patients ranged from cats and dogs to wild wolves, ducks and owls.
After graduating high school, Corey attended Washington State University where she studied courses in the Animal Science, Zoology and Animal Behavior fields. During her second summer off from college, Corey began working at Paradise Pet Lodge and continued every summer. After graduating from WSU in 2007 with a Bachelor of Science in Psychology, she was hired on full time.
As an important member of the customer care team at Paradise Pet Lodge, Corey helps to ensure that owners and their pets receive the highest quality of service. In addition, she uses her creativity and skill of the written-word to write and edit the Paw-sitively Paradise Newsletter. As a Certified Advanced Pet Care Technician of the Pet Care Services Association, she continues to expand her knowledge in the pet care industry.
Corey currently resides in Woodinville with her two cats and is a proud co-owner of a champion show mastiff named Otis.