In 1990, we started with 50 private large dog indoor enclosures with full-time access to individual outdoor patio areas during daylight hours. The inside area is 4'x 6′ with overhead skylights providing natural light. The 4′ x 12′ covered outside patios provides dogs an outdoor experience, without being exposed to our unpredictable Pacific Northwest weather.
In 1994, an additional 41 large dog enclosures with indoor radiant heated floors were added, accompanied by an indoor waterfall and atrium. All inside enclosures are 4′ x 12′. The large inside enclosures accommodate families with multiple pets and owners who choose to bring in their own crates and extra large beds. Each enclosure shares a 6'x12′ covered outside patio with two other boarding neighbors. Boarders are rotated at separate times throughout the day for their share of time outside. The patios are cleaned between each rotation.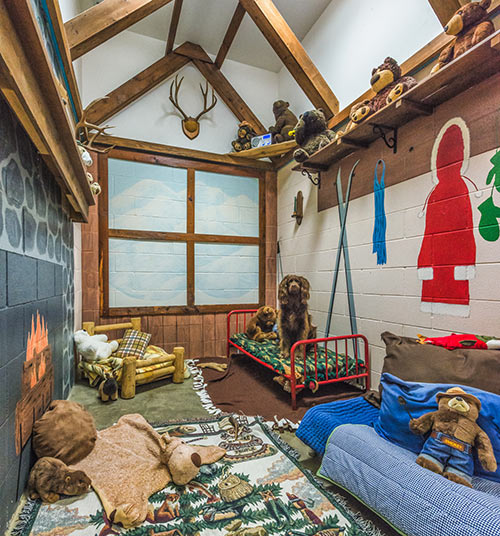 We offer our clients a choice of nine very comfortable and private suites. Each suite is accessed through a sliding glass door. The suites are 8′ x 11′ and each decorated with a different theme.
These charming suites are furnished with a toddler and/or hammock style bed, comfy pillows, cushions and rugs. Soft music is provided during the day to provide a quiet and very private atmosphere for all dogs, especially dogs that are not accustomed to increased activity. Two VIP (Very Important Pet) suites have outside patios for private access throughout the day. Pets staying in the other seven suites receive a personalized trip to their own private area for potty breaks.
In February of 2000, after listening to our customer's requests, we constructed 78 additional small dog enclosures. There are forty eight; 4′ x 8′ elevated enclosures. Every enclosure includes solid panels on each side of the enclosure for additional privacy. The remaining thirty enclosures are double-decker 4′ x 4′ enclosures providing smaller breeds a private, size appropriate space with the lower levels providing safety for "fence climbers" and the upper levels offering more comfort to smaller dogs preferring to be eye level to their caretakers.
Several times a day, each dog is taken to a private covered run and provided an extended period of time outside.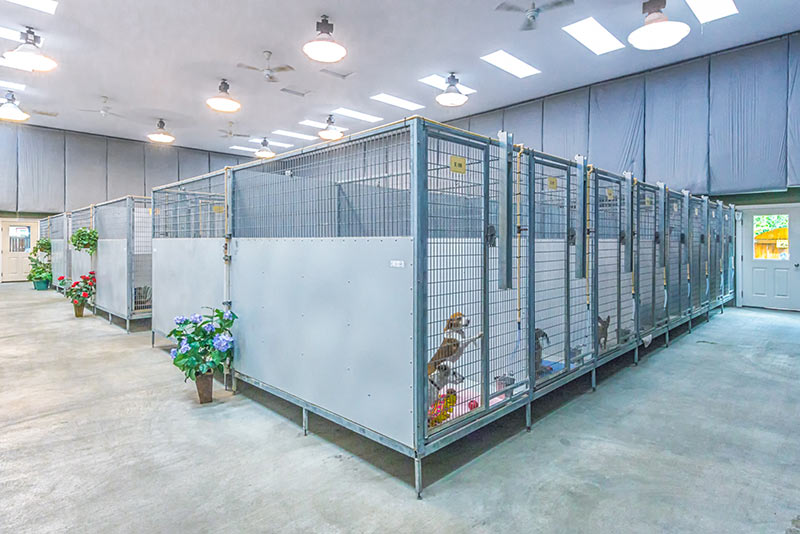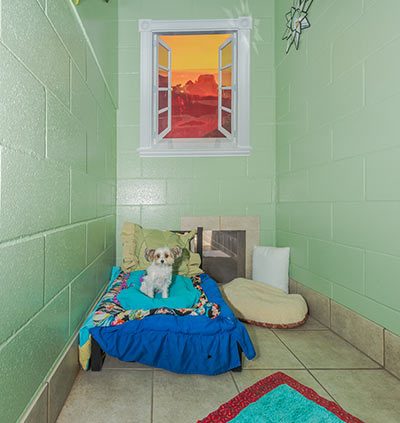 In the summer of 2007 we renovated two of our original large dog buildings and added six private VIP (Very Important Pet) small dog suites.
These private suites have individual access to a large outside patio area. Entry is made through a sliding glass door into a welcoming environment featuring radiant heated tile floors, scenic murals and plush, cozy bedding. These suites are ideal for smaller and/or elderly dogs that are accustomed to their privacy. The small dog suites are separate from the large dog boarding areas.
Prices Effective February 1, 2022
Large Suites w/ Private Outside Patios
Small Suites w/ Private Outside Patios
A $75 deposits is required to reserve a suite. A thirty day minimum cancellation notice is required for a refund or transfer of your deposit. Owners will be financially responsible for any damage done by their pets while boarding in the suites. During the holiday seasons, we will require an advanced non-refundable deposit for all accommodations.
Private daycare is available during the day, whether you are working, fertilizing the lawn or shopping with friends – let your dog come hang out at Paradise Pet Lodge, Inc. This reduced rate lessens the financial impact for our working owners and/or owners with special needs for daycare and is offered on a space availability basis. Al a Carte and Deluxe Activity packages are available for all daycare pets.
Our activity packages are in addition to our regular boarding services and may be purchased separately on a daily basis or in any combination. You also have an option to purchase activities individually using our Ala Carte option.
This package is great for the smaller or older dogs who may need lighter activity.
You may choose from a plush comforter or a raised hammock bed for your pet to rest on.
Morning
Start out the day with a quick stop at the Paws Here Coffee Shop for a smoothie or treat.
Afternoon
A 15 minute nature walk.
Snack
After a relaxing afternoon they will get an all natural USDA apple wood smoked beef bone.
Evening
5 minute walk and 10 minutes of Snuggle Time.
This package is for those dogs that have high energy and are always on the go and is intended to utilize your pet's enthusiastic energy.
You may choose from a plush comforter or a raised hammock bed for your pet to rest on.
Morning
An early morning walk to the Paws Here Coffee Shop to get a smoothie or treat.
Mid-Morning
A 30 minute private play session followed by a treat ball.
Noon
Kong treatball filled with cookies or peanut butter.
Evening
A 30 minute private play session to burn off any left over energy.
Similar to the Active and On the Go, including play time with other dogs.
You may choose from a plush comforter or a raised hammock bed for your pet to rest on.
Morning
A one hour group play with the other dogs.
Mid Day
More play time with dog friends for 30 minutes.
Noon
Kong treatball filled with cookies or peanut butter.
Evening
A 15 minute nature walk out on the trail.
For those dogs that love the "Aquatic Life".
You may choose between a plush comforter or a raised hammock bed for your pet to rest on.
Your pet's personal care givers will fill out a daily report card to be sent home accompanied with a photo from on their Fun Swims.
Morning
Rise and shine with a walk to the Paws Here Coffee Shop to enjoy a smoothie or natural treat.
Noon
Kong treatball filled with cookies or peanut butter.
Early Afternoon
One 15 minute Fun Swim with on our fitness coaches in the pool.
Evening
A 5 minute walk with 10 minutes of Snuggle Time.
Walks – $8.50 per pet 
A nature walk throughout our 13 acre wooded trails and meadows offers your dog an excellent opportunity for exercise in a natural environment. Dogs are kept on a 26' flexi-lead during the walk.
Plays – $14 per play
An individual play session with one of our exercisers. We start each play with a 10 minute walk and then proceed to one of our fully fenced in play yard for 20 minutes of ball, Frisbee or free time. Each play session is 30 minutes. Additional family pets in the same play session shall receive a discounted price of $10.
Group Plays – $16 per dog
Group Plays are a wonderful form of exercise and socialization with other dogs, supervised by one of our staff members. Dogs that participate in group must be spayed or neutered and possess the proper temperament for this type of activity. They must be current on their vaccinations at least 10 days prior to the first group play. Each group play is 1 hour long.
We do advise that any of our boarders with any health issues such as seizures, arthritis, post surgery or heart conditions carefully consider this activity, it may not be appropriate for some canine companions.
Fun Swim – $25 for 15 min, $50 for 30 min
Your dog could enjoy a fun filled swimming session in our warm salt water pool with one of our trained fitness coaches. Depending on your dogs experience we offer either a basic introduction to swimming with lots of encouragement in a secure environment for the first timers, or swimming with tennis balls and water toys for the novice. What a great way to exercise the day away.
Longer sessions available per request.